Kleenex
Pocket Packs
• Kleenex ® Pocket Packs are trendy designed pocket tissues in a compact format.
• Made from natural fibers which are biodegradable. (we suggest you discard facial tissues in the trash)
• Designed to be extra soft and extra strong.
• Our boxes are made from at least 95% recycled fiber with most of them actually being from 100% recycled.

Kleenex Pocket Packs Display Box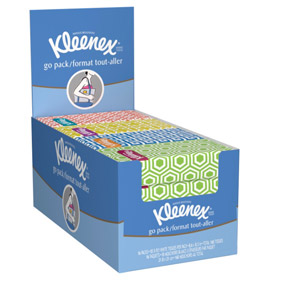 Item: 11975 – 32 Pack (2 Display Boxes)
Item: 71527 – 192 Pack Case (12 Display Boxes)
MSRP: $1.50/individual package
Kleenex Pocket Packs