Advil
Advil® The Every Pain Reliever®

You can't always stop for pain, and pain won't stop for you. So take action with Advil for fast pain relief. Its unique coating makes it easy to swallow.
• Convenient travel size with durable hard plastic container, goes anywhere.
• Non-steroidal anti-inflammatory drug.
• Temporarily reduces fever.
• 10 tablets per individual package.

Advil Tablets Display Box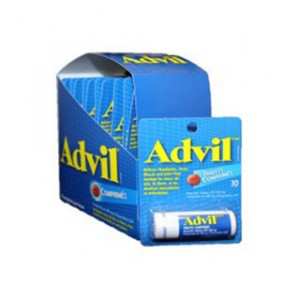 Item: 00401 – 24 Pack (2 Display Boxes)
Item: 04019 – 72 Pack (6 Display Boxes)
MSRP: $6.95/individual package
Advil Tablets Individual Package